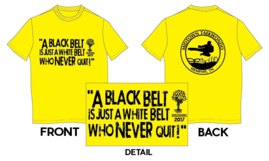 Upcoming Events....

*Please always watch lobby announcement board for most up to date times and information.



​May 30, 2017

Summer Day Camp Begins

We are having day camps all summer long!
Camps start Tuesday, May 30th.
Sign your child up for one of the most fun summer camps in Memphis!
You can sign up for just a few weeks, or the entire summer.
Click here for Parent Handbook and Registration.



June 26, 2017
Last chance to Order MTKD Scholarship T-shirts!
Beat the heat this summer! The Midtown TKD Scholarship Fund is accepting donations in exchange for a dri-fit t-shirt that students may wear in ANY Midtown TKD class from Memorial Day until Labor Day. T-shirt pre-orders are available now with a $30 donation per t-shirt, Last day to order made June 26th for these t-shirts, so get yours now!

Click here to place your order.

All proceeds benefit the Midtown TKD Scholarship Fund.
The Midtown Taekwondo Scholarship Fund provides support for children in the Memphis Community to participate in Midtown Taekwondo activities. Through our fund, we provide opportunities for children to train in taekwondo, attend summer overnight camp, after school programs and summer day camp, as well as compete in tournaments and reach their martial arts goals.

If you would like more information on the fund itself or on how you can help grow a black belt, contact one of the board members listed below. We are always looking for volunteers to assist the MTKD Scholarship Fund. If you are interested in learning more about how you can help, please let a board member know, via MTKDScholarship@gmail.com.

​